This is the working Penny that we all know and love.
See, it has full climate control!! The climate INSIDE the car, is exactly the climate OUTSIDE the car.
However, at the beginning of the year we rebuilt her engine for more power (of course) but came across a little problem about 500km's into the new wizz-bang rebuilt one….. blew a head gasket and cracked the block. Just in case you have zero mechanical-know-how, there is NOT suppose to be water in those holes!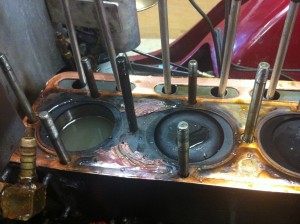 In the quest for more power, we put high compression pistons in (ratio WAS 5.0:1, now is around 7.5:1), reduced the flywheel weight in half, a counter-balanced crankshaft and lightweight alluminium conrods to get more revs (of course!)
Everything about her is still laregly original, still leaf springs and hartford shockies, same diff, same gearbox, same engine block (only re-machined and specced for more power). We put the bucket seats in for the extreme long distances we will drive, roll bar for safety and we completly rebuilt the dashboard to suite rally equipment such as trip meters and GPS's.